Di Lachlan, Tutor di Wall Street English Roma
Several years ago while I was living in France I decided to relinquish my present thoughts of 'self-determination' and 'you are your own destiny' and submit myself to the fantastical world of tarot. While many may disagree with the crystal ball glancing, palm-reading practices, everyone surely likes to indulge in the dream of being promised to meet your prince charming and to live happily ever after. During my experience, I was told many things; such as "you'll travel lots" and "you may be rich". However, upon asking "et l'amour?" her rather blunt response was, "sorry, not at this stage in your life". Leaving from my rather sobering reading, I started to think about love in general and the ever-changing realm of dating. While my only real understanding of romance has come from Sex and the City, I felt as though the broad theme of 'love and marriage' would be an interesting subject for this week's column.
With the increasing rise of dating apps, such as Tinder and OkCupid, many would argue that the nature of the old-fashioned dating scene has been replaced by a more fast-paced, anonymous arena of active singletons seeking that someone special. As opposed to the eye-exchange, wine-exchange, number-exchange routine previously executed on a Saturday night on the town, today's 20-something-year-olds are swiping left or right revelling in the gratification of instant exchange. Despite the shifting nature in which we can now meet Mr. or Mrs. Right, has much really changed in the actual undertakings of the first date? While I am far from a dating expert, my regular Sunday brunch sessions, entailing discussions with friends about the weekend frivolities have certainly equipped me with a range of trusted tips in order to have that winning first date!
1) Neutral, neutral, neutral!
While everyone enjoys a deep discussion concerning the recent undertakings of Berlusconi's love life, or perhaps understanding the purpose of religion and one's own belief system, be sure to keep your conversation light-hearted and reasonably neutral. Anything too vexing or opinionated may at times be a little overwhelming for the prospective match, so be sure to stick to general topics including travel, music, gastronomy, and family; for example, Britney Spears' greatest hits album!
2) Moderation, moderation, moderation!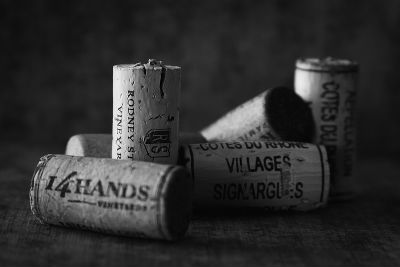 (immagine Wine Corks di Reed Lewis – Licenza Creative Commons)
Unquestionably the first date is a sweat-inducing, heart-racing experience, sure to have even the most seasoned dater going gaga. For some, a reassuring chat to mum beforehand works, for others a quick run around the local neighbourhood suffices. However, for most, a sip of the trusty vino is sure to lubricate the social awkwardness of getting to know someone new. Despite the empowering effects of a fine white from Veneto, too much of the golden elixir can decay the verbal filter, and be a true concoction of disaster! While a credit card may keep the spirits flowing, the classic case of TMI (too much information) may lead to embarrassing details and circumstances spilling forth; as the Romans say, 'in vino veritas'.
3) Location, location, location!
In order to woo your prospective date, why not benefit from all the splendour Rome has to offer, and choose that fitting location to 'get into the groove', as Madonna would say. Rather than a starkly- lit, barren space which might feel more awkward than a full-body examination at the local doctor, be sure to find a warm, ambient space sure to ignite conversation and get sparks flying. Think low-lighting, sublime music, and a myriad of inviting sofas to add to the romance. Rome is also all about the panorama: St Peter's dome, historical arches, and of course the colossal Colosseum. So, in order to inspire, why not select a venue boasting scaping views of the eternal city and bid 'salute' over your first drop of vino?
Despite today's rise in technology and the apparent ease of the 'rendezvous', dating will always be indissolubly linked with stress, fear, and anxiety. While the expedition to find that Mr. or Mrs. Right might seem like a never-ending string of embarrassing first dates and emotional tribulations, these three recommendations will hopefully dispel the trauma and leave you feeling just like Jane Austin's Mr. Darcy!