Di Lachlan, Tutor di Wall Street English Roma
immagine Wholegrain Cooking Class at Trupp Cooking Schooldi DorotaTrupp– Licenza Creative Commons)
Word of Mouth è una rubrica di Wall Street English Roma a cura del Tutor Lachlan. Ogni settimana Lachlan approfondirà in inglese uno degli argomenti trattati in un Social Club. Questa settimana il focus è dedicato alla lezione "My favourite restaurant", una lezioneWaystage che si terrà Martedì 22 Settembre alle 18.00 presso la nostra sede. Se ti vuoi iscrivere, chiamaci al numero 06 8772 4531 o mandaci una mail a roma1@wallstreet.it Per vedere le altre lezioni d'inglese della settimana, controllate il nostro calendario Social Club.
Italy has always been indissolubly linked to delectable cuisine, and Rome is no exception to the tradition. Yet in more recent time, the international food scene has been whisking, chopping, and drizzling an eclectic mix of dishes all aspiring to the modern lexicon of 'nouveau cuisine'. Although popular and thriving, this cuisine at times lends itself to lean portions, overly complex dressings, and a hefty bill at the end of the indulgence. In this instance Rome fortunately is the exception. While fine food is becoming increasingly synonymous with extortionate prices, Rome has upheld its tradition of treating locals with a gastronomic experience that won't break the budget. With the impending return of the school year and the international wave of students, I felt it was apt to choose the theme 'my favourite (cheap) restaurant' for this week's column. Here, I shall share with you my list of top three cheap gourmet eats in Rome.
While Trastevere has become all too familiar with its dysphemistic title of 'tourist trap' by locals, the figurative expression of being 'on the right side of the tracks' applies quite literally to this picturesque quarter. For most, Trastevere is associated with the popular, right side of Viale Trastevere. Comprising of Piazza Santa Maria di Trastevere, a mix of souvenir shops, and mediocre buskers, many tourist-food-traps have set up shop, catering to the masses with poor interpretations of la cucina romana. However, the south side of Viale di Trastevere is a different story and is where the true essence of Roman cuisine prevails. Encompassing streets such as Via dei Genovesi and Via Anicia, this historical labyrinth of narrow, lantern-lit alleys is a foodie's one-stop-guide to a mix of well-priced trattorie which simmer with authenticity.
My favourite amidst the repertoire has to be Da Enzo al 29 (Via dei Vascellari, 29), a 'hole in the wall' kitchen serving traditional Roman favourites certain to give nonna's home cooking a run for her money. While the fluorescent lighting, plastic tablecloths, and brisk waiting staff may initially seem uninviting, the rustic and very modest-priced dishes will undoubtedly compensate and have you proclaiming 'grazie mille'! Favourites include the cacio e pepe, amatriciana, and carbonara which are each executed with a perfect blend of flavour and culinary prowess. The carciofi alla guida is also just as satisfying a topless poster of David Beckham!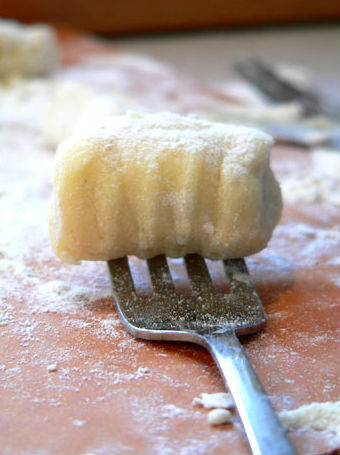 (immagine Gnocchi di Béatrice Peltre – Licenza Creative Commons)
Just a hop, skip, and a jump across the river and you will reach Testaccio, Rome's current epicenter of gastronomy. Formerly Rome's meat-packing district, Testaccio has held tight to its food-related origins, yet this time around, its interpretation is a little more appetizing. For those craving pizza alla romana, look no further than Da Remo (Piazza di Santa Maria Liberatrice, 44). Regularly heaving with locals on Friday and Saturday nights, Da Remo is a true embodiment of why Roman pizza should, and can, rival its napoletano competitor. With typical favourites including margherita, funghi, and salsiccia, Da Remo's gregorious chefs dexterously deliver fresh pizzas which are sure to satisfy the most discerning critic, and perhaps even a visitor from Naples. While the house wine is no sommelier's dream and the selection of fritti are not worth spending the pennies, the consistency and flavour of the well-executed pizzas render this authentic pizza bar a must for locals and students alike.
A little south of Piazza di Santa Maria Liberatrice, cloaked in the golden light of a neighbouring parish, lies Trapizzino, the hottest place in town right about now. Serving their iconic 'trapizzino' a modern take on the tramezzino sandwich, this pocket-sized deli is quickly leaving an indelible imprint on the gourmet-fast-food-scene. Using pizza dough as opposed to bread, the trapizzino sandwich is filled with a mix of scrummy yummy fillings which are both reminiscent of traditional roman cuisine as well as more modern interpretations sure to have hungry tummies coming back for more. Think polpette al sugo, pollo cacciatore, trippaallaromana, and for those a little more adventurous, lingua in salsa verde. However, Trapizzino is not just about the not-so-humble sandwich; it is also developing a steadfast following for its addictive take on the supplì. Oozing with melt-in-your-mouth mozzarella and a decadent blend of rice, meat, and tomato, Trapizzino'ssupplì are sure to break even the most diligent dieter's will for at least one day of the year!
While most people may like the idea of attending a Michelin star restaurant, experiencing a dish of freshly caught salmon, grain fed beef, or dehydrated vegetables served with a balsamic reduction, Rome's gastronomic scene is fortunately a little more accessible, and a little cheaper! So, with my three recommendations for the perfect budget meal out, be sure to tantalise your taste buds and appreciate some rustic, hearty nosh.