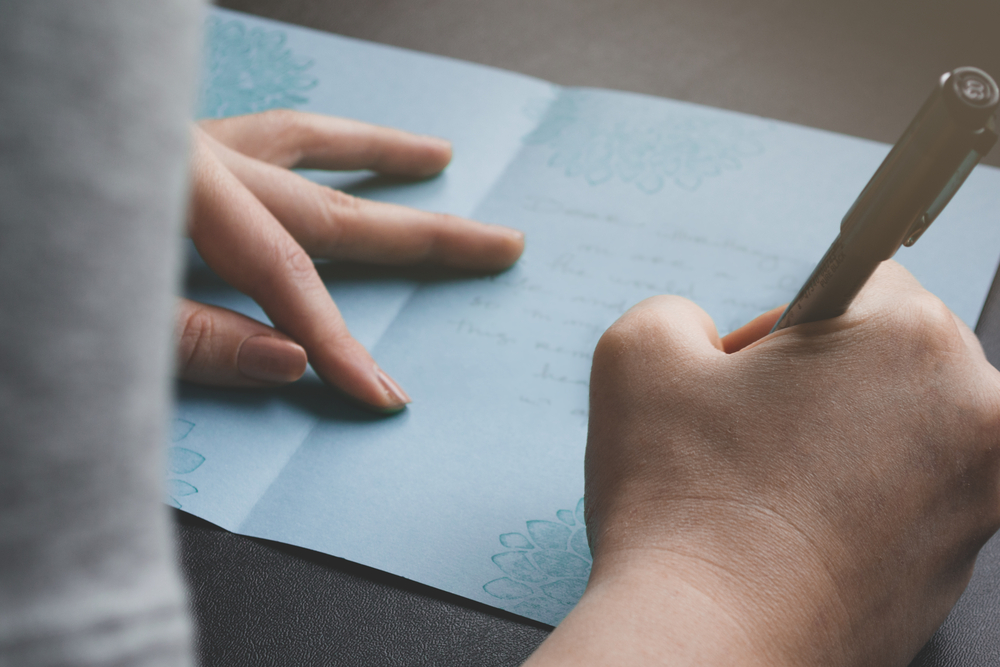 Trasferirsi in un Paese anglofono non significa solo parlare in inglese, ma anche vivere la vita e la cultura del posto. Sicuramente, almeno una volta nella vita, ti ritroverai a scrivere un biglietto d'auguri a qualche tuo collega o amico, ed è per questo che è importante sapere come farlo in inglese.
Birth greeting wishes (biglietto per una nuova nascita)
Se vuoi rassicurare i neogenitori, perché si tratta del loro primo bambino, e mantenere un tono formale potresti scrivere:
You are probably nervous about this new baby thing, but all you need to know is you are going to be great.
Congratulations!
Se, invece, preferisci qualcosa di più classico e formale:
Congratulations on the arrival of your bundle of joy/Congratulations new parents! What a joy this beautiful life will be!
Christening wishes (biglietto per battesimo)
Solitamente, questi tipi di biglietti sono più formali. Ecco cosa potresti scrivere
On the day of your Christening, let God be your guiding light. May you be a wise person and follow the path of the Lord. God Bless you
Oppure utilizzare qualcosa di più semplice, ma ugualmente ricco di significato, come
Happy Christening! May the Holy Spirit be with you and guide you always.
Birthday wishes (auguri di compleanno)
Il biglietto di compleanno è uno dei più diffusi, e qui si può veramente usare tutta la propria creatività. Se il biglietto è di cortesia e non c'è un gran rapporto, si può rimanere su qualcosa di semplice
Happy Birthday! I wish you a magical birthday filled with wonderful surprises.
Al contrario, se il rapporto è molto forte si può utilizzare una frase di questo tipo
Happy Birthday to the most amazing, loving and wonderful person.
I hope we can enjoy our amazing friendship for many birthdays in the future.
Stupisci i tuoi amici, anglofoni e non, con un biglietto d'auguri in inglese. Prima però, divertiti con il nostro test gratuito di inglese online e scopri il tuo livello della lingua:
Easter wishes (biglietto di auguri per Pasqua)
Sebbene sia uno dei biglietti meno comuni, anche in questo caso è più normale rimanere sul formale, dato che generalmente gli auguri sono rivolti a tutta la famiglia
Happy Easter to you and your family. May you enjoy a joyful and lovely Easter filled with the Lord's contentment.
Oppure, allontanandoci un pò dalla sfera religiosa
May your Easter basket be full of joy, peace and love. Happy Easter.
Christmas wishes (biglietto per Natale)
Il Natale è una festività molto sentita, e gli auguri e le cartoline non possono proprio mancare. Ma cosa scrivere all'interno?
May heavenly blessings of love, peace and joy rain down on you on this day.
Merry Christmas!
A un caro amico, invece, puoi scrivere
There are many gifts under the Christmas tree, but the best one is the gift of your friendship.
Happy Christmas!
Graduation wishes (biglietto per laurea)
E se sei nel Regno Unito per motivi di studio e i tuoi compagni di corso si laureano? Ecco qualche suggerimento
Congratulation on your graduation! You have such a bright future head of you.
Oppure
The future belongs to those who believe in their dreams. Congratulations!
E se, invece, il biglietto d'auguri è per un figlio che studia all'estero o si laurea in inglese?
We are proud of you!
Happy Graduation,
Mum and Dad
Wedding wishes (auguri per il matrimonio)
Se uno dei colleghi si sposa, non farti trovare impreparato e utilizza una delle seguenti frasi
Congratulations on your marriage. I whish you a life of love and happiness.
Se a sposarsi è un caro amico, il messaggio dovrà essere più sentito
May your love grow stronger every day. I wish you all the happiness.
Happy wedding day!
Confirmation wishes (biglietto per la Cresima)
Per degli auguri semplici, ma d'effetto, soprattutto se il biglietto è già molto carino, si può optare per
Loving Wishes on you Confirmation day
Se, invece, si desidera scrivere qualcosa in più
Best wishes on your Confirmation.
May God's love be always in your heart to strengthen you along life's way.
Communion wishes (Auguri per la prima Comunione)
Nonostante in questi casi si preferisca sempre un augurio più serioso, ecco un modo per giocare un pò
This comes with special wishes
on your First Communion day
that God will always bless you
as you follow in His way.
Congratulations
Per rimanere su qualcosa di semplice e classico, puoi optare per
With best wishes as you celebrate your First Holy Communion
Father's day wishes (auguri per la festa del papà)
Una frase piena d'affetto da dedicare al proprio papà
Happy Father's Day to the most strong, caring and wise man I know. I will love you always.
E un'alternativa più simpatica
I wish you a happy Father's Day!
From your favorite kid (you know which one)
Mother's day wishes (auguri per la festa della mamma)
I migliori auguri per la festa della mamma? Ecco un esempio
Happy Mother's Day to the only woman in the world that gave me all the love, her soul and her time.
E per un augurio meno "sdolcinato", ma ugualmente amorevole
Roses are red, violets are blue,
sugar is sweet, and so are you!
Happy Mother's Day!
Saint Valentine's Day wishes (auguri per San Valentino)
Se devi fare gli auguri in inglese alla tua dolce metà, con questo suggerimento non rischi di sbagliare
I loved you yesterday
I love you still
I always have
I always will.
Happy Sant Valentine's Day!
New home wishes (biglietto di auguri per chi ha appena comprato casa)
Non si smette mai di congratularsi per qualcosa, e riuscire a comprare una casa è davvero un bel traguardo da festeggiare così:
A brand-new key
a brand-new place
a happy smile upon your face!
Congratulations on your new home!
Non smettere mai di allenare anche le tue abilità di ascolto e conversazione in inglese. Per te il nostro e-book gratuito per incoraggiarti a migliorare la comprensione dell'inglese e parlare in modo più sicuro e disinvolto. Scarica ora la guida di Wall Street English e scopri come rendere l'apprendimento della lingua piacevole e divertente con i nostri migliori consigli