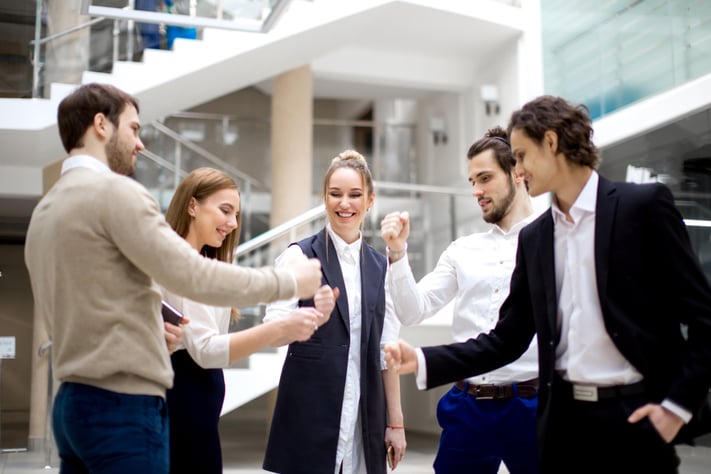 La forza di qualsiasi azienda risiede principalmente nelle persone. Avere un gruppo di dipendenti affiatato, che sa lavorare in modo coordinato e armonico, è un fattore di successo di primaria importanza in qualsiasi settore. Ormai da qualche decennio, i reparti HR si sono resi conto di questo e hanno cominciato a introdurre nelle aziende attività di Team Building, momenti formativi e aggregativi volti a creare gruppi affiatati e migliorare la motivazione del singolo dipendente.
Dai giochi di ruolo agli sport, dalle esperienze ludiche a quelle mirate al benessere, sono davvero tante le strategie che possono essere messe in atto per avere una squadra sempre più coesa.
Se operi in un contesto internazionale e devi organizzare momenti di Team Building, ecco alcune frasi che possono esserti di ispirazione:
Frasi motivazionali in inglese per il Team Building
In union there is strength. L'unione fa la forza. Esopo
Talent wins games, but teamwork and intelligence wins championships. Il talent può farti vincere una partita, ma il lavoro di squadra e l'intelligenza possono farti vincere il campionato. Michael Jordan
No one can whistle a symphony. It takes a whole orchestra to play it. Nessuno può fischiettare una sinfonia: ci vuole un'orchestra per suonarla. Halford E. Luccock
The strength of the team is each member. The strength of each member is the team. La forza del team è ogni membro. La forza di ogni membro è il team. Phil Jackson
Coming together is a beginning. Keeping together is progress. Working together is success. Mettersi insieme è un inizio. Rimanere insieme è un progresso. Lavorare insieme è un successo. Henry Ford
Individual commitment to a group effort--that is what makes a team work, a company work, a society work, a civilization work. L'impegno individuale per uno sforzo di gruppo: questo è ciò che fa funzionare un team, un'azienda, una società, una civiltà. Vince Lombardi
Remember, teamwork begins by building trust. And the only way to do that is to overcome our need for invulnerability. Ricorda, il lavoro di squadra comincia dalla costruzione della fiducia. E l'unico modo per costruirla è superare il nostro bisogno di invulnerabilità. Patrick Lencioni
Getting good players is easy. Getting them to play together is the hard part. Scegliere buoni giocatori è facile. È farli giocare insieme la parte più difficile. Casey Stengel
If you can laugh together, you can work together. Se potete ridere insieme, potete anche lavorare insieme. Robert Orben
A single arrow is easily broken, but not ten in a bundle. Una sola freccia si rompe facilmente, ma un fascio di dieci frecce no. Proverbio
None of us is as smart as all of us.

Nessuno di noi è tanto intelligente quanto tutti noi insieme. Ken Blanchard
Quali vocaboli e modi di dire tipici del linguaggio business in inglese conosci? Scoprilo con il nostro test gratuito online
Team Building: frasi ispirazionali in inglese
Ci sono poi moltissime altre frasi che, nell'ambito del Team Building, possono ispirare i membri del gruppo, spingendoli a non arrendersi mai, a credere nelle proprie potenzialità e nei propri sogni, a imparare dai propri insuccessi (aspetto di fondamentale importanza all'interno di un'azienda). Ecco le più significative:
The future belongs to those who believe in the beauty of their dreams. Il futuro appartiene a chi crede nella bellezza dei propri sogni. Eleanor Roosevelt
If you can dream it, you can do it. Se puoi sognarlo, puoi farlo. Walt Disney
The best way to make your dreams come true is to wake up. Il modo migliore per rendere i tuoi sogni realtà è svegliarti. Paul Valery
Well done is better than well said. Ben fatto è meglio che ben detto. Benjamin Franklin
The secret of getting ahead is getting started. Il segreto per andare avanti è iniziare. Mark Twain
It always seems impossible until it's done. Sembra sempre impossibile, finché non viene fatto. Nelson Mandela
Only those who will risk going too far can possibly find out how far one can go. Solo chi rischia di andare troppo lontano avrà la possibilità di scoprire quanto lontano si può andare. Thomas Stearns Eliot
Fall seven times, stand up eight. Cadi sette volte rialzati otto. Proverbio Giapponese
The will to win, the desire to succeed, the urge to reach your full potential… these are the keys that will unlock the door to personal excellence. La volontà di vincere, il desiderio di riuscire, l'impulso a raggiungere il tuo pieno potenziale… queste sono le chiavi che apriranno la porta all'eccellenza personale. Confucio
Success is walking from failure to failure with no loss of enthusiasm. Il successo passa dal fallimento al fallimento senza perdita di entusiasmo. Winston Churchill
Failure is the opportunity to begin again more intelligently. Il fallimento è l'opportunità di ricominciare più intelligentemente. Henry Ford
Success is not final, failure is not fatal: it is the courage to continue that counts. Il successo non è mai definitivo, il fallimento non è mai fatale; è il coraggio di continuare che conta. Winston S. Churchill
Ever tried. Ever failed. No matter. Try Again. Fail again. Fail better. Ho sempre tentato. Ho sempre fallito. Non discutere. Prova ancora. Fallisci ancora. Fallisci meglio. Samuel Beckett
I have not failed. I've just found 10,000 ways that won't work. Non ho fallito. Ho solo trovato 10.000 modi che non funzionano. Thomas Edison
Life is 10% what happens to you and 90% how you react to it. La vita è per il 10% quello che ti accade e per il 90% il modo in cui reagisci. Charles R. Swindoll
Keep your eyes on the stars, and your feet on the ground. Tieni gli occhi fissi sulle stelle e i piedi per terra. Theodore Roosevelt
Be the change you want to see in the world. Sii il cambiamento che vuoi vedere nel mondo. Mahatma Gandhi.
La conoscenza dell'inglese in ambito business può davvero ampliare i tuoi orizzonti professionali. Scarica il nostro e-book gratuito per scoprire come far decollare la tua carriera grazie all'inglese!